Shopping Cart
Your Cart is Empty
There was an error with PayPal
Click here to try again
Thank you for your business!
You should be receiving an order confirmation from Paypal shortly.
Exit Shopping Cart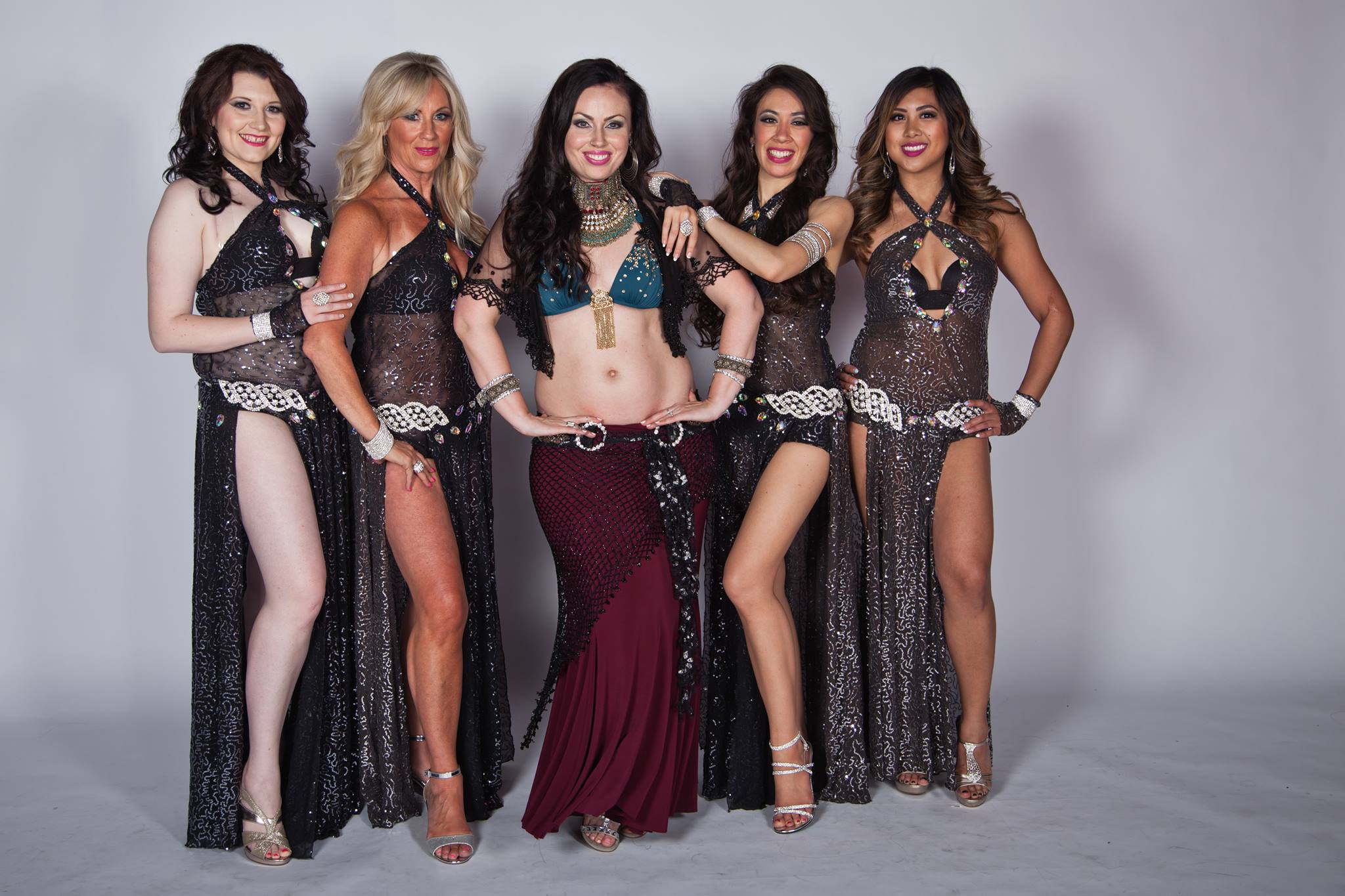 Joharah is founder and Artistic Director of BellyUp BellyDance Studio one of Canada's leading dance studios specializing in Egyptian style dance. This year marks BellyUp 10th anniversary. BellyUp's dance ensemble Ala Nar has twice won first prize in the Star Bellydancer of Canada Competition
Sani-Abu - Founder, Executive/Artistic Director
Born into a family of traditional dancers, Sani-Abu began performing and touring at the age of 15 with Benin City's Uyi-Edo Dance Theater Troupe. He spent the past seven years in New Jersey and New York performing, teaching and collaborating with top leading dance companies such as Alvin Ailey American Dance Company, The Seventh Principle, Michael Mao Dance Company, The Brighton Ballet Theater in collaboration with the Moscow Ballet, Zawadi African Dance Company and Sankofa Dance Theater to name a few.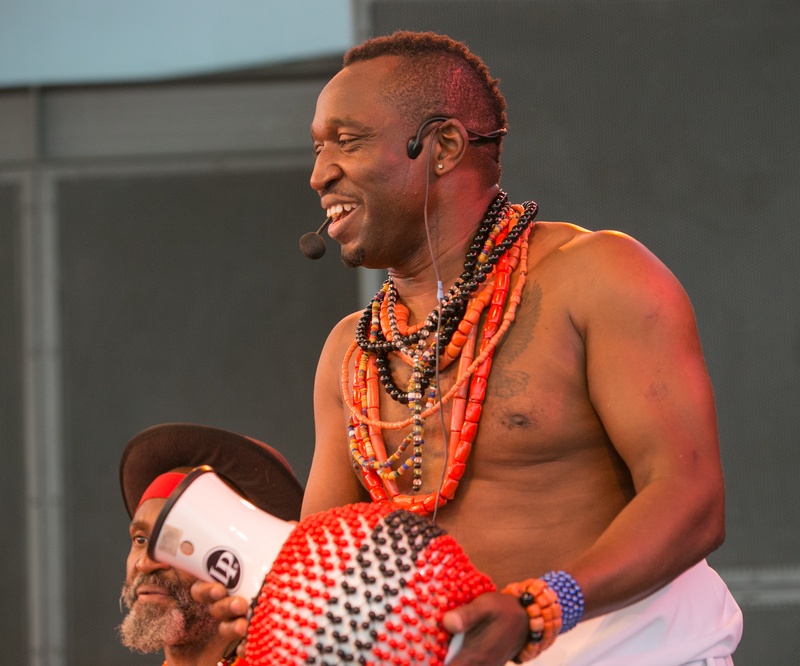 In addition, he has also worked with John Hopkins University in Baltimore, and was a resident artist and educator at the New Jersey Performing Arts Center. Sani has toured extensively in both Europe and Africa, and has been trained by some of the top dancers and instructors such as Aghabiomon Nogie Ogbeiwi (Uyi-Edo Cultural Troupe), Youssouf Koumbassa (Les Ballet Bagata), Muyiwa Oshinaike a.k.a Babanee (Black Marbles), Felix Okolo (Dance Heritage), Chuck Mike, Candace Hundley-Kamate (Seventh Principle) and Karen Miles (Zawadi Dance). In addition, he has appeared in various television programs, films, music videos, and has been featured on CNN, Nigerian Television Authority (NTA), Lagos State Television (LTV), and 98.7 Kiss FM (New York). In April 2005, Sani moved to Toronto to start ijo vudu! A traditional African dance company and Sani-Abu School for African and Contemporary Dance and in no time found a well-spring of artists bursting with enthusiasm to study and perform with him. He obtains an Artist-Educator Foundation Certificate through the Ontario Act Council and the Royal Conservatory of Music. With inspired guidance, Sani is swiftly schooling his performers in the traditional drum rhythms, social dances and cultural history of his native Country Nigeria. Since his arrival, he has been actively teaching and performing, and has quickly become a highly sought after artist in the city. In October 22, 2008, he was called with other professional dance choreographers to choreograph a 1 minute 20 seconds dance piece for the hit TV show, So You Think You Can Dance Canada!. In 2008, Sani was also appointed by the Nigeria High Commissioner to Canada Prof. Iyorwuese Hagher, PhD.D, OON to engage a cultural exchange between Nigeria and Canada. Since his inception in Canada, he established his clothing line called "KaBAH-KaBAHS", Sani-Abu School for African and Contemporary Movement, Vudu Media and ijovudu Culture and Heritage. He has performed and share the stage with notable top African icons such as Salif Keita, Youssouf N'dior, Baba Mal, Toby Foye, Billy Nnankoma Konate and Baba Toure all at the TD Canada Jazz Festivals. Both in 2009/2010, he was called to open up for the Broadway musical The Lion King and was part of the original cast of FELA.
Ariane Terveld
Ariane began her musical journey at 7 with the Canadian Children's Opera Chorus and training at the Royal Conservatory of Music, Toronto, where she continued for 14 years. She studied at University of Toronto, Faculty of Music. She has performed as a singer/songwriter in theatres and clubs in Southern Ontario with a wide range of artists including Salome Bey, Liberty Silver and composer Ricky Hyslop at CBC Radio. For the last 10 years, she has studied a variety of traditional and folk dances including Odissi Temple Dance, Kalbelia Dance, Middle Eastern & Central Asian Folkdance and American Tribal Style Bellydance. Most recently, Ariane spent January 2016 at the Shakti School of Dance in Pushkar, India, training in Odissi with Sudhansu Pohana and Kalbelia with Raki Kalbelia. She has studied with Paromita Kar, Colleena Shakti, Simona Jovic, Miriam Perez, Nourhan Sharif, Faten Salama, Sahra Saeeda, Lubna Eman, Aida Nour and Aisha Ali. Ariane is a founding member of Troupe Obskurah, a folk music/dance collective that performs and educates audiences on Middle Eastern, Turkish, Central & South Asian dance and music. She is passionate about preserving and performing the history of music and dance of these regions. She is active in organizing shows that spotlight lesser known folkdances and indigenous peoples, such as The Roma Dance Celebration, in 2015, which included dances from the Yazidi, Tajik, Kalbelia, Afghani and Rom cultures.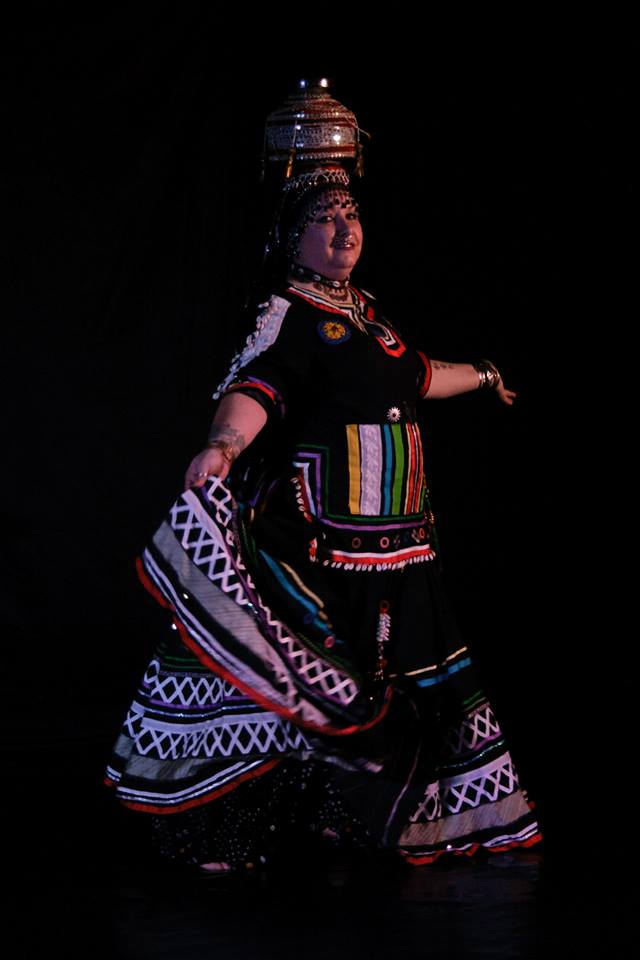 (Introduction to Kalbelia dance performed by Ariane Terveld)
As the sun dips to the horizon and the incense from distant temples rises in sacred offering, the nomadic kalbelia people build their fires to warm them through the cool desert night. An assortment of horses, camels, goats and dogs settle in beside the rough twig and tarp shelters. Babies in hammock cribs sleep soundly as chapattis are slapped onto cooking pans. Soon these people of the snake will gather together to drum, sing and dance amid the sand hills and thorny scrub of Thar desert in northwestern Rajasthan. They are a quietly proud people, living on the fringes of society. Snake charming and snake catching is their main livelihood and their dance reflects the sensuous and wild movements of the revered cobra. The beat of the dholak and the reedy melody of the been carry out across the night, the distinctive ancient sound of the kalbelia. As the stars appear overhead, the twinkles of brightly decorated dancers twirling beside the fire seem almost to touch the sky creating a connection with the universe.


VYbE
VYbE emerged onto the Canadian dance scene in 1996. They have made an exciting impact on audiences with their highly energized performances. Their street style savvy and unique choreography has made them widely known and well respected within the dance industry. Under the new artistic direction of Jasmin Yeung, VYbE has recently competed and won the highly respected Beat Down Hip Hop Dance Competition 2016. Driven by this remarkable accomplishment, they continue to strive for excellence and are currently training harder than ever. Through thought provoking concepts and storytelling, VYbE hopes to bring you on a captivating journey of emotions.


Ensemble Topaz
Ensemble Topaz is a Toronto-based music and dance ensemble dedicated to performing an original fusion of arts from the Turkish, Klezmer, Romani and Balkan traditions, as well as dances from South Asian and Central Asian Heritages. The artists involved in Ensemble Topaz have international dance and music profiles. Collectively conceived by music composer Mike Anklewicz and dance artist Paromita Kar, Ensemble Topaz offers a variety of dance and musical traditions. The Ensemble has performed at numerous events in Toronto, Ontario and abroad. Highlight performances include the International Stage, Canadian National Exhibition, Asian Heritage Day hosted by SAFSS, Toronto International Youth Dance Festival, Klezmer Brunch at the Free Times Cafe, and stages such as the Mel Lastman Square and Nathan Phillips Square. Ensemble Topaz is programmed to perform at Mid-Autumn Harvest Festival at Chinese Centre of Mississauga, and is hosting a behind-the-scenes experience and performances for nationwide Culture Days at the historic Annette Library in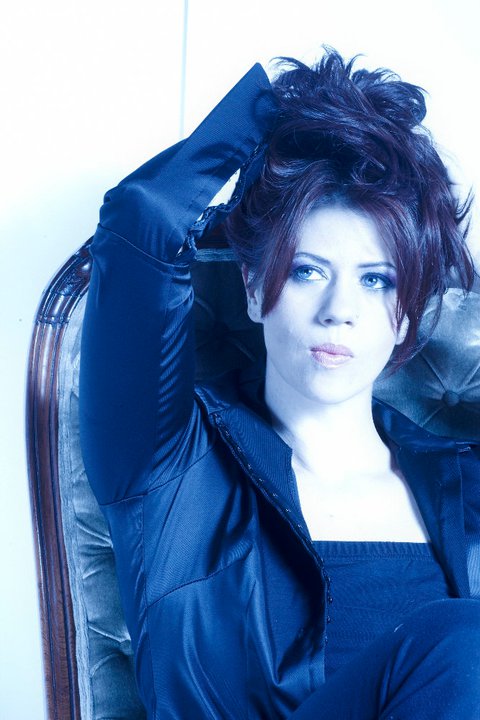 Brandy Leary 
Brandy creates contemporary performances through the body: active as a dancer, choreographer, aerialist, writer, arts advocate, community cultivator, space maker, Artistic Director, educator and curator. Her performance works have been produced and performed in Canada, Europe, India, South Africa and the USA in theatres, urban environments, festivals, museums, art galleries and isolated landscapes.
She has lived between Canada and India for the past 17 years training, collaborating and creating (both explicitly and implicitly) in the traditional Indian performing languages of Seraikella and Mayurbhanj Chhau (dance), Kalarippayattu (martial art) and Rope Mallakhamb (aerial rope). In Canada she works with western approaches to aerial rope, the bridge discipline of Axis Syllabus, post contemporary dance/circus practices and psychic/shamanistic explorations to create performances.
Her 2014 work Cascade, a large scale durational aerial choreography, was cited by Kathleen Smith of NOW Magazine as one of the top 5 performances of the year, expressing the work's effect on her as " I was spellbound and becalmed by this 12-hour immersive meditation featuring stately aerial rope work, stunning projections and atmospheric music". Other pieces have been pronounced as "soulful and sensuous (New York Times), "hilarious" (Money on Theatre) and described as creating "a hallucinatory, dreamlike state" (Fran Schechter NOW). Much of her choreographic work is based in ritual and participatory structures operating both within, but most often outside, of Eurocentric frameworks.
She founded Anandam Dancetheatre as an umbrella structure for her performance projects (www.anandam.ca) and is its Artistic Director. She is a founder and Co-Director of Collective Space (an alternative performance and rehearsal venue in Toronto's west end), Founder and Co-Artistic Director of CCAFT (Contemporary Circus Arts Festival of Toronto), developer of Anandam's Audience In Residence Program and curator/co-producer of the Body Brake dance series at Theatre Passe Muraille. She is a driving force in the evolution of contemporary circus practice in Toronto as a choreographer, performer, curator and festival director working from values of experimentation, discourse development, curiosity and collaboration.
Brandy is a triple Shastri Indo Canadian Fellow, a Chalmers Professional Development Awardee, a visiting artist for the Shiv Nadar University MFA Program (India), a Toronto Arts Council Cultural Leadership Fellow for 2016, has been twice shortlisted for the KM Hunter Award in Dance 2009 and 2011 was a 2013 Multi-Disciplinary Dance Artist Nominee for the Soulpepper Dance Awards and is a Toronto Arts Council Cultural Leadership Fellow for 2016. She has had her work supported by the Canada Council for the Arts, Hal Jackman Foundation, CreatiVenture Collective, Bata Shoe Museum, Summerworks, Rhubarb Festival, Fringe NYC, City Leaks Urban Arts (Cologne), Infecting the City Public Arts Festival (Cape Town) , Theatre Passe Muraille , Dance Made In/Fait au Canada Festival, CCAFT, Darpana Academy (India) , Circus NOW, Metcalf Foundation, Ontario Arts Council, Toronto Arts Foundation, Toronto Arts Council, Blackwood Gallery, AGO and Nuit Blanche.
Brandy Leary Artistic Director: Anandam Dancetheatre Co Director: Collective Space Co Founder and Co Director CCAFT
www.anandam.ca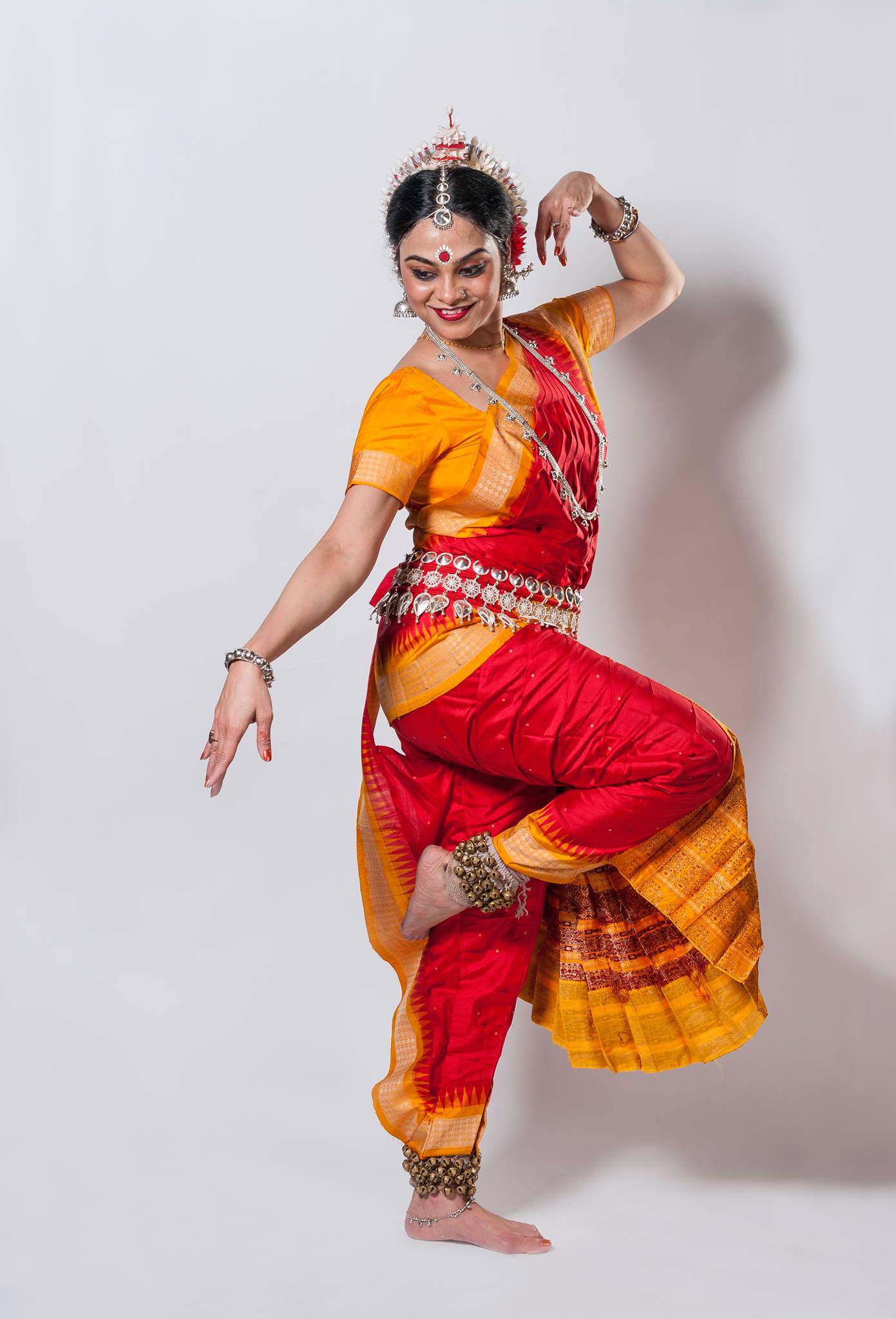 Enakshi Sinha
Dance, Strength, Grace & Passion
'Mastery over Laykari and sensitive abhinaya are two facets of this talented dancer. Enakshi's body movements, use of her mudras and her facial expression are beyond comparison." - Hindustan Times says. ( www.enakshi.org/)
In her short span of her arrival in Canada from India she has already made her mark by giving performances in the major festivals of Canada. Enakshi has established herself as one of the top rankers in the country. Enakshi cultivated a lifelong devotion to Indian Classical dance starting with Bharatnatyam from the tender age of five under the guidance of Guru Thankamuni Kutty. She then passionately fell in love with the Odissi dance and learnt this subtle form from Smt. Sharmila Biswas. Her distinctive style came from her direct training from Padmavibhusan Guru Kelucharan Mohapatra & Guru Ratikanta Mohapatra in Srjan, Bhubaneshwar. Her active performance career spans for the last 17 years that includes performing in major festivals in India, Europe & North America. At present Enakshi is the Founder Chairperson and Artistic Director of her dance institution 'Mrudanga Dance Academy'. Since three years Mrudanga had hosted two day dance festival "Umang – Light of Hopes" in Windsor inviting renowned artistes from India & North America. One critical contribution of Mrudanga has been to promote Indian art & culture merging with other cultures and present it for the audience in Canada. Enakshi had the honor to perform for Indian PM Mr. Narendra Modi during his visit to Toronto in April 2015 at Rico Coliseum Centre, Toronto.
Achievements
• Recipient of International Nritya Shiromoni Award from Utkal Yuva Sanskrutik Sangha, Cuttack, India for propagating and preserving Indian Classical Dance in Canada.
• Recipient of Shingar Mani title from Sur Singar Samsad, Mumbai, India.
• Recipient of several grants from Ontario Arts Council and Canada Council for the Arts.
• Selected as a Jury member for Ontario Arts Council, 2011 & 2014.
• Empaneled artiste of India Council for Cultural Relations (ICCR), Sangeet Natak Academy (SNA) and East Zone Cultural Centre (EZCC).
Dance Productions & Tours
• "A Garden Waits for Rain" (2016) collaboration show with Waterloo Chamber Players, Symphony Orchestra with 30 live musicians.
• "Woman – Search" (2015) explores the question as to how a woman is defined. Is it by the accidents of her birth or the compulsions of her inner self? These questions were explored through stories of two women.
• "DEVI – THE DIVINE CORE" (2014) A unique creative collaboration between Manipuri, Odissi, Manipuri classical and ethnic music, Hindustani music, chants from Vedas and Puranas.
• "STRITVA SAMPRATTI" – Legacy of Womanhood (2013), presenting issues on Woman. This is a dance-theatre a mere monologue or to think of it, it could even be calibrated as a dialogue between a woman and her inner self. Silent, deep, unfathomable, treasured within the folds of one's senses.
• 'YATHAGAMANAM- Guru Kelucharan Mohapatra, the legacy continues" (2011) as a solo and duo performance with Guru Ratikant Mohapatra. This was presented in West coast of Canada.
• SAMYUKTA (2010) showing a unique blending of three dance forms Bharatnatyam, Kathak and Odissi. This was presented in different places of Canada along with the invited artistes from India
• CROSSROADS (2009). CROSSROADS has equally benefited by the expertise of Kathak interpretation by Montreal based dancer along with Odissi interpretation by Enakshi. www.enakshi.org/www.mrudanga.com
HARIKISHAN S NAIR
Harikishan is a highly accomplished professional dancer, teacher and choreographer, trained in three different styles of Indian classical dance Harikishan S Nair is naturally endowed and with a solid training in Bharathanatyam under the tutelage of renowned Guru Smt. Girija Chandran (who was the disciple of Guru Padmasree Adayar K Lakshmanan. Smt. Girija chandran's whole perception of aesthetics and perfections in training method and presentation turned out to a new dimension with the association of the Padmabhooshan The Dhananjayan's) , continues his journey with his medium of expression, trying to explore the inner meaning and happiness from performing and experimenting his first love, DANCE. Harikishan started learning dance at the age of 3. He started learning Bharathanatyam at the age of 5. Harikishan has also learned Kuchipudi under Guru Smt. Geetha Krishnakumar and Guru Smt. Bijula Pramod who were the disciples of Padmabhooshan Guru Sri. Vempatti Chinna Sathyam. He was trained Kathakali under Guru Sri Nelliyodu Appu Nampoothiri . Each performance for him is a tremendous learning experience, filling with a sense of euphoria because dance for him is a celebration of life. He has presented numerous performances till date and has also worked with the productions of the Legends like Dr. Padma Subramanyam, Sri. Madurai R Muralidharan, Dr. Menaka Thakkar,Guru Kohinoor Sen Barat, Sri Janak Khendry, Smt. Uma Murali , Sri Lata Pada and so on. Harikishan has also performed for many major Dance Festivals in India and North America. Regatta Dance and Music Festival- Trivandrum, Swathi Thirunal Dance Festival - Trivandrum, Nattyanjali -Trivandrum, Navarathri Festival -Gujarat to name a few in India and he has also performed for North American Tamil Convention 2013 (FETNA- Sony Ceter) , North American Bengali Convention 2013 in Toronto (NABC- Metro convention center), Panorama India (Indian Consulate ) shows for Indian Independence Day and Republic Day, Navaratri festival- Organised by the Tamil, Bengali and Gujarati Associations of Toronto, Kalanidhi Festival, Inspiration 2014, Horizon series 2014 (Sampradaya ),Harbour Front Next step festival 2013, 2014 and 2015, Navaratri Festival - New York and Cleveland , Can Asian Festival 2015, Dance Ontario festival -Harbour Front 2016 to name a few in North America. His recent contribution to the dance was his new dance production "SAMYOGITA"in association with Nrutha Kala Kendra, in which they incorporated 3 different South Indian Classical Dance Forms with almost 15 dancers. He was awarded the title' Natya Shiromani for his contribution to the dance. He has also won the the title "Kalaprathibha" during his tender age for the youth festival competitions conducted in kerala.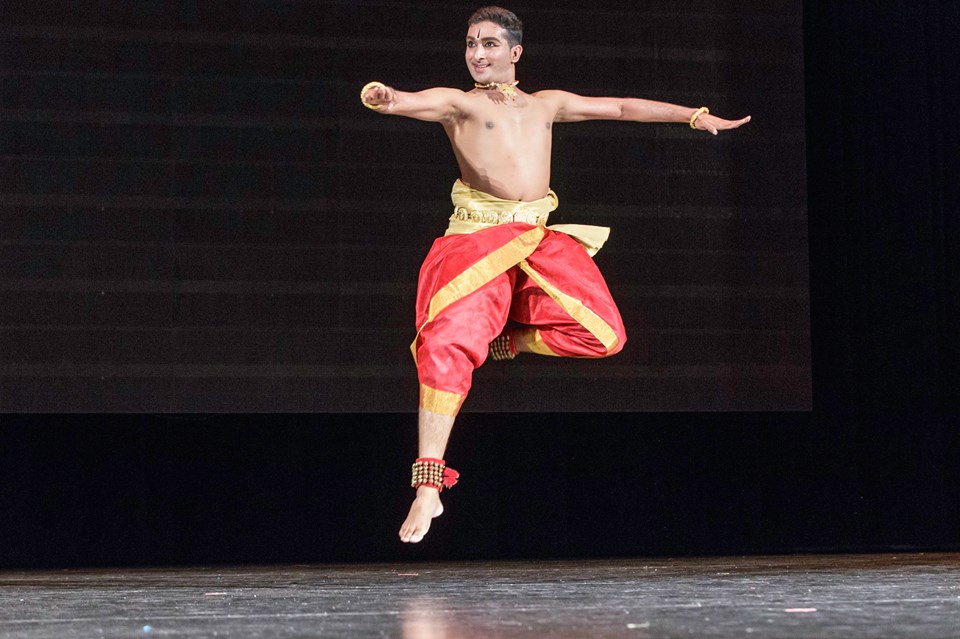 His impressive stage presence and graceful movements have been appreciated by art critics. "In terms of dancing ability, none came close to matching Harikishan S. Nair who played the role of Son (of God). Showing absolute control over every movement and motion, Nair was as light and graceful as a sunbeam one moment, and clomped down to earth the next". Examiner.com, Review of Paradise Lost, 2013" for the Next Step festival, Toronto Harikishan has taken his Graduation in Physiotherapy from India and is the Artistic Director of Regatta Kala Kendra situated in Toronto.

0

/