Shopping Cart
Your Cart is Empty
There was an error with PayPal
Click here to try again
Thank you for your business!
You should be receiving an order confirmation from Paypal shortly.
Exit Shopping Cart
Ariane Terveld
Ariane began her musical journey at 7 with the Canadian Children's Opera Chorus and training at the Royal Conservatory of Music, Toronto, where she continued for 14 years. She studied at University of Toronto, Faculty of Music. She has performed as a singer/songwriter in theatres and clubs in Southern Ontario with a wide range of artists including Salome Bey, Liberty Silver and composer Ricky Hyslop at CBC Radio. For the last 10 years, she has studied a variety of traditional and folk dances including Odissi Temple Dance, Kalbelia Dance, Middle Eastern & Central Asian Folkdance and American Tribal Style Bellydance. Most recently, Ariane spent January 2016 at the Shakti School of Dance in Pushkar, India, training in Odissi with Sudhansu Pohana and Kalbelia with Raki Kalbelia. She has studied with Paromita Kar, Colleena Shakti, Simona Jovic, Miriam Perez, Nourhan Sharif, Faten Salama, Sahra Saeeda, Lubna Eman, Aida Nour and Aisha Ali. Ariane is a founding member of Troupe Obskurah, a folk music/dance collective that performs and educates audiences on Middle Eastern, Turkish, Central & South Asian dance and music. She is passionate about preserving and performing the history of music and dance of these regions. She is active in organizing shows that spotlight lesser known folkdances and indigenous peoples, such as The Roma Dance Celebration, in 2015, which included dances from the Yazidi, Tajik, Kalbelia, Afghani and Rom cultures.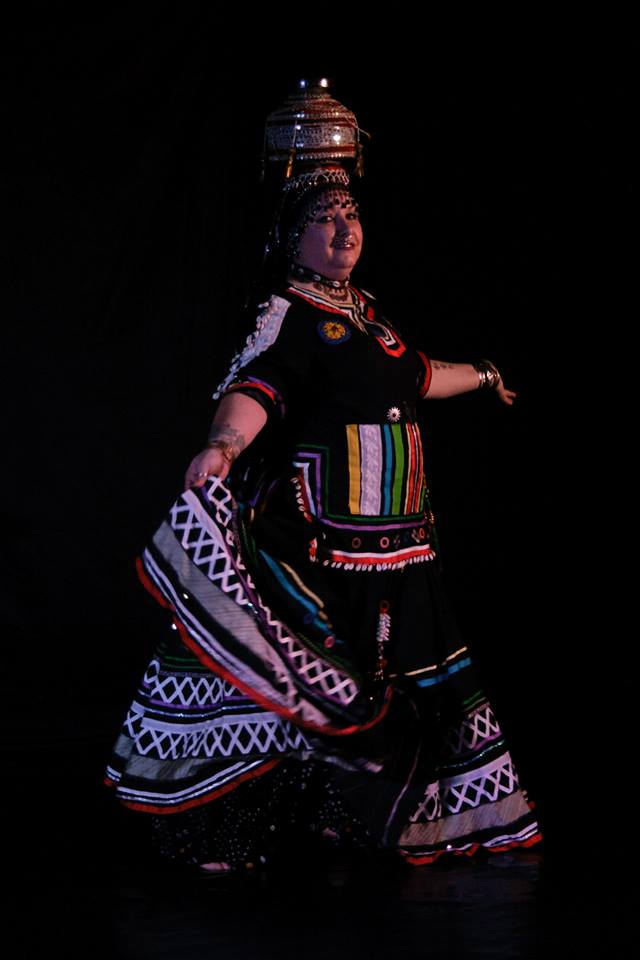 (Introduction to Kalbelia dance performed by Ariane Terveld)

As the sun dips to the horizon and the incense from distant temples rises in sacred offering, the nomadic kalbelia people build their fires to warm them through the cool desert night. An assortment of horses, camels, goats and dogs settle in beside the rough twig and tarp shelters. Babies in hammock cribs sleep soundly as chapattis are slapped onto cooking pans. Soon these people of the snake will gather together to drum, sing and dance amid the sand hills and thorny scrub of Thar desert in northwestern Rajasthan. They are a quietly proud people, living on the fringes of society. Snake charming and snake catching is their main livelihood and their dance reflects the sensuous and wild movements of the revered cobra. The beat of the dholak and the reedy melody of the been carry out across the night, the distinctive ancient sound of the kalbelia. As the stars appear overhead, the twinkles of brightly decorated dancers twirling beside the fire seem almost to touch the sky creating a connection with the universe.




Categories: PERFORMERS / PROFILES

0

/