Shopping Cart
Your Cart is Empty
There was an error with PayPal
Click here to try again
Thank you for your business!
You should be receiving an order confirmation from Paypal shortly.
Exit Shopping Cart
HARIKISHAN S NAIR
Harikishan is a highly accomplished professional dancer, teacher and choreographer, trained in three different styles of Indian classical dance Harikishan S Nair is naturally endowed and with a solid training in Bharathanatyam under the tutelage of renowned Guru Smt. Girija Chandran (who was the disciple of Guru Padmasree Adayar K Lakshmanan. Smt. Girija chandran's whole perception of aesthetics and perfections in training method and presentation turned out to a new dimension with the association of the Padmabhooshan The Dhananjayan's) , continues his journey with his medium of expression, trying to explore the inner meaning and happiness from performing and experimenting his first love, DANCE. Harikishan started learning dance at the age of 3. He started learning Bharathanatyam at the age of 5. Harikishan has also learned Kuchipudi under Guru Smt. Geetha Krishnakumar and Guru Smt. Bijula Pramod who were the disciples of Padmabhooshan Guru Sri. Vempatti Chinna Sathyam. He was trained Kathakali under Guru Sri Nelliyodu Appu Nampoothiri . Each performance for him is a tremendous learning experience, filling with a sense of euphoria because dance for him is a celebration of life. He has presented numerous performances till date and has also worked with the productions of the Legends like Dr. Padma Subramanyam, Sri. Madurai R Muralidharan, Dr. Menaka Thakkar,Guru Kohinoor Sen Barat, Sri Janak Khendry, Smt. Uma Murali , Sri Lata Pada and so on. Harikishan has also performed for many major Dance Festivals in India and North America. Regatta Dance and Music Festival- Trivandrum, Swathi Thirunal Dance Festival - Trivandrum, Nattyanjali -Trivandrum, Navarathri Festival -Gujarat to name a few in India and he has also performed for North American Tamil Convention 2013 (FETNA- Sony Ceter) , North American Bengali Convention 2013 in Toronto (NABC- Metro convention center), Panorama India (Indian Consulate ) shows for Indian Independence Day and Republic Day, Navaratri festival- Organised by the Tamil, Bengali and Gujarati Associations of Toronto, Kalanidhi Festival, Inspiration 2014, Horizon series 2014 (Sampradaya ),Harbour Front Next step festival 2013, 2014 and 2015, Navaratri Festival - New York and Cleveland , Can Asian Festival 2015, Dance Ontario festival -Harbour Front 2016 to name a few in North America. His recent contribution to the dance was his new dance production "SAMYOGITA"in association with Nrutha Kala Kendra, in which they incorporated 3 different South Indian Classical Dance Forms with almost 15 dancers. He was awarded the title' Natya Shiromani for his contribution to the dance. He has also won the the title "Kalaprathibha" during his tender age for the youth festival competitions conducted in kerala.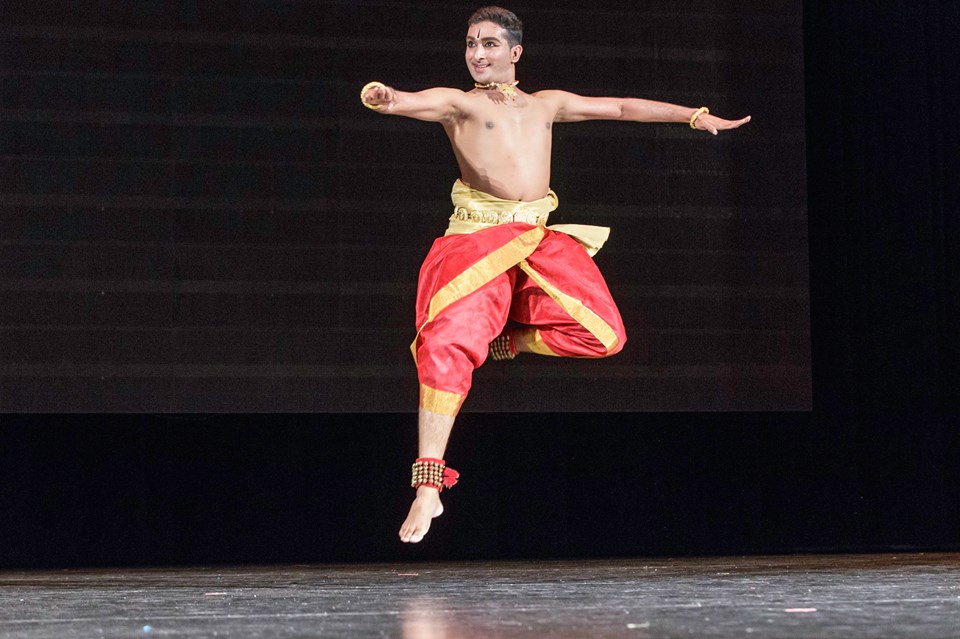 His impressive stage presence and graceful movements have been appreciated by art critics. "In terms of dancing ability, none came close to matching Harikishan S. Nair who played the role of Son (of God). Showing absolute control over every movement and motion, Nair was as light and graceful as a sunbeam one moment, and clomped down to earth the next". Examiner.com, Review of Paradise Lost, 2013" for the Next Step festival, Toronto Harikishan has taken his Graduation in Physiotherapy from India and is the Artistic Director of Regatta Kala Kendra situated in Toronto.
Categories: PERFORMERS / PROFILES
/